What do I wear (clothing, shoes)?
---
Wear what makes you feel confident and comfortable while dancing with others. If you're planning on partner dancing, we recommend thinking about what won't catch on your partner - sometimes wrist jewlery can get caught on a partner, or a precariously balanced top can have you worrying about security. Hot tip - most people bring a few spare shirts since it can get pretty warm. For shoes we recommend shoes that you can easily twist in (not too much tread) to help you move freely while protecting your joints. Most regular dancers wear shoes similar to keds and often suede the soles for that extra glide.
---
So this is a social dance, what's the etiquette?
---
We're so glad you asked! We actually have a special page dedicated to this topic (there's even an infograph below these FAQs). Check it out!
---
What is a birthday jam?
---
We have a tradition of celebrating recent birthdays together. We gather as a group and take turns dancing with the birthday people. It's totally optional but also a low-key way to meet new dancers and celebrate members of our community.
---
What is solo jazz and can I do it at social dances?
---
Sometimes the music gets you moving and you don't have time to find someone to dance with! The original swing dancers threw down with or without a partner. Also, just because the word "solo" is in the name doesn't mean solo dancing can't be social. Check out this clip from our annual Emerald City Solo Jam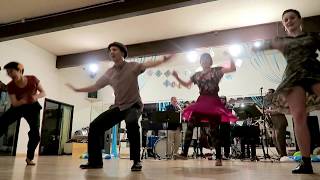 and see what we mean!
---
Can I ask someone to dance?
---
Yup! Anyone can ask anyone to dance! This is a social dance, and so lots of folks show up with no partner, or with a partner that they'll only dance with for part of the evening. Also, feel free to ask anyone of any role, age, skill level, gender, or whatever to dance. You're in charge of your own destiny! Pro tip: If you're not sure if the person you're asking dances the other role from the one you want, you can clarify by saying something like, "Would you like to lead, follow, or switch?" Switch dancing is where you trade off who's leading and who's following in the same song.
---
How can I decline a dance?
---
If you don't feel like dancing this one woith the person asking *for any reason* all you have to do is say "No thanks," with no further explanation necessary. It's no big deal, and it's quite normal. Likewise, if you ask someone to dance and they say no, please understand that it's not a personal slight. There are lots of other folks to ask, and we promise that it's WAY more fun to dance with someone who's just as excited to throw down as you are!
---
How can I get better as a dancer?
---
We're all about helping people grow as dancers. We have classes for people of all levels and our team members are always happy to help you find a class that's right for you. Reach out to us during a dance or email us at info@syncopationfoundation.org.
---
How can I get more involved?
---
We're excited that you're thinking about getting more involved with us! If you're thinking of making a donation and/or volunteering with us check out our get involved page. We keep it updated with the latest volunteer positions and opportunities to give. If you'd like to inquire about teaching or DJing, please reach out to us at info@syncopationfoundation.org.
---
Do I need to bring a partner?
---
Nope! Swing is a social dance, and we'll rotate around in our classes so we all get to dance with each other. Plus, at the evening dance parties most folks enjoy asking new people to dance to make new friends, find new inspiration, and have a great time with everyone in the room!
---
---